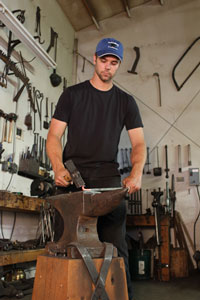 Chris grew up in Central Oregon. In 2004 he graduated from Central Oregon Community College with a degree in Emergency Medical Services. While testing for paramedic jobs, he got a job at a local heating and cooling business in the duct shop. He quickly realized he had an interest and talent for welding and fabrication. This interest made him realize how much he really didn't like the Emergency Medical Field.
He began working with the "specialty guy" at the shop, who made the custom items like countertops and kitchen hoods. "We built a copper fireplace surround that was accented by a beautifully handcrafted set of fireplace doors that were built by another shop. That shop turned out to be Ponderosa Forge." This sparked his interest in blacksmithing.
With the recommendation of the "specialty guy," in 2006, Chris drove to Ponderosa Forge to see if they were looking for an apprentice. He was hired to weld and fabricate and was trained in blacksmithing.
"I love what I do! It's always something different that requires me to think and be creative."